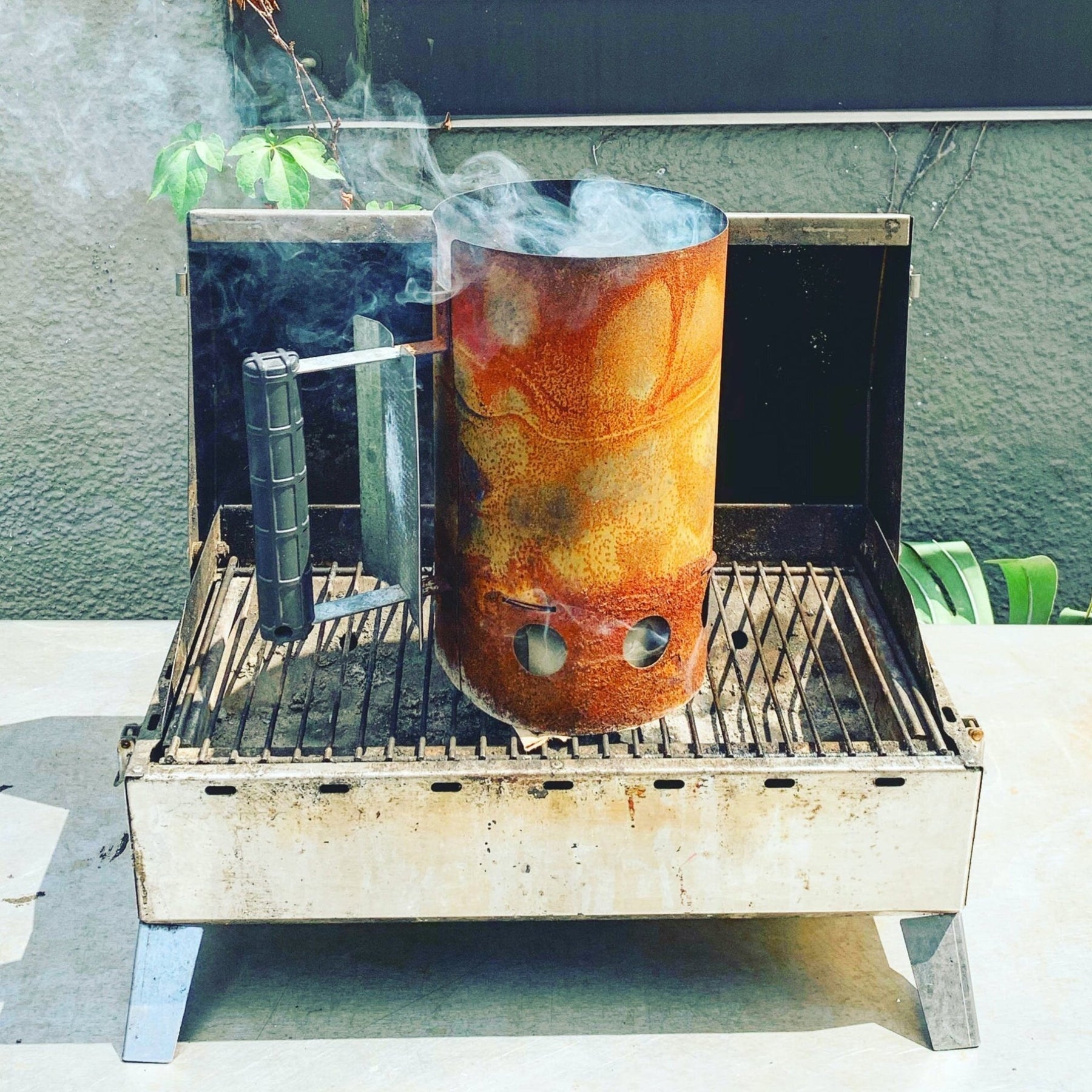 Recipe: Smoked Poblano Fermented Hot Sauce
If you haven't gathered by now, we love homemade fermented hot sauce. Our kitchen is full of it. Really, a different bottle for every dish. And when our mood calls for a smokier hot sauce, this Smoked Poblano Hot Sauce recipe is our absolute go-to. Made with our Fermented Hot Sauce Kit, we've added this sauce to almost everything. Honestly, we haven't had scrambled eggs in more than a year without a few dollops of this smoky lacto-fermented hot sauce!
This Smoked Poblano Hot Sauce is smoky but tastes quite fresh (thanks to the selection of poblano and serrano peppers). It's spicy, but not too spicy. (You, of course, could make it spicier with even more serrano peppers.) Its flavor is quite complex. It's an attractive smoky green worthy of any kitchen table, and we think you'll love it.
When we say smoked, we're serious. In this recipe, we take a portion of the poblano peppers, slice them in half, and char them on a grill so that they're blackened. (We know… The peppers are technically grilled. Not smoked, you BBQ purists out there.) The fire mellows a bit of the peppers' heat and adds a rich smoky character to the hot sauce.
The addition of onion and garlic, plus the magically transformative effects of lacto-fermentaion in general contributes a deeply flavorful savory, umami flavor to this hot sauce.
Let's talk about poblano peppers…
Poblano peppers are a type of mild pepper that originate from Puebla, Mexico. If you compare their heat to other peppers, they slot in between a bell pepper and a jalapeño. On the Scoville heat scale they measure about 1,000 – 1,500 SHU (Scoville Heat Units), while a jalapeño ranges from 2,000 – 10,000 SHU.
Poblano peppers are grown in the southwestern areas of the United States and are typically harvested when they're still green. This gives them their mild flavor. When poblano peppers are ripe, they turn a deep red color and taste a little spicier. In Mexico the red poblano peppers are commonly dried and sold as ancho peppers.
Making smoked hot sauce is easy
For this fermented smoked hot sauce recipe, you will need to gather your hot sauce ingredients, fermentation jar, make your saltwater brine, and light up your grill.
To grill your poblano peppers, halve four peppers lengthwise and remove the seeds. We like to grill our peppers until they are charred black on both sides. If you don't have a grill, you can also char them over the flame of a gas stove or place them under the grill element of your oven. The idea is to create that proper smoky flavor that makes this hot sauce so unique. Evenly char both sides of your peppers and chop them once cool.
While you wait for your charred poblanos to cool, prep the rest of your ingredients. Slice six garlic cloves and roughly chop four fresh poblanos, three serrano peppers with the stems removed, and one medium onion. Layer the ingredients in your fermentation jar, sprinkle with one teaspoon of cumin, and cover with your saltwater brine. You will need to place a fermentation weight on top to make sure everything stays submerged. Place an airlock atop your fermentation jug and leave in a cool dark place for two weeks. (Want to learn about airlocks? Check out this video.)
Once your hot sauce is ready, strain your solid ingredients, reserving one cup of brine. Blend your fermented solids, one cup of brine, and one cup of white vinegar until smooth. If you prefer really acidic hot sauces you can add more vinegar, but definitely taste it first.
Your final result will be a beautiful deep green hot sauce, specked with charred black flakes, giving every dish you add it to a deeply smoked umami spice.