How to Make Rainbow Bagels
Instructions For Use With:
---
---
Baking Mix

Baking Yeast

Red, Yellow & Blue Liquid Gel Food Coloring
Water

1.5 tsp Sugar

Flour (for dusting surfaces)
6 Small Mixing Bowls

Whisk

Plastic Wrap

Kitchen Towels

Slotted Spoon

Baking Sheet

Baking Mat or Parchment Paper

Medium-Sized Pot
All the specialty ingredients used in this recipe can be found in our Rainbow Bagel Making Kit.
---
---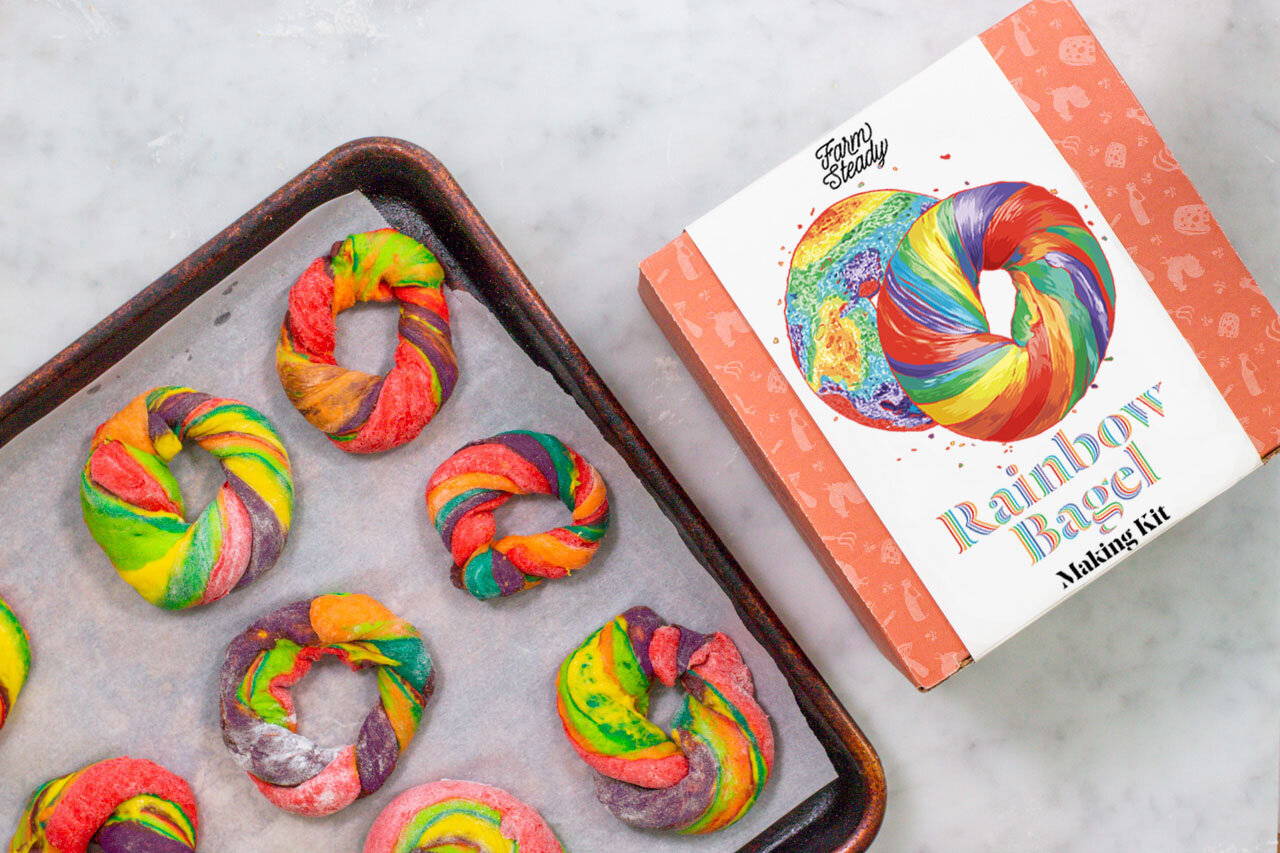 You're in luck! Why's that'? Because you're about to make Rainbow Bagels with a FarmSteady Rainbow Bagel Making Kit, and literally nothing is more delightful than enjoying your own Rainbow Bagels. Vibrantly swirled, and endlessly playful, we hope you truly have a blast making these beauties.
The following recipe will guide you through each step of the process: From proofing your baking yeast and mixing your perfect personalized color palette, all the way through boiling and baking your own bagels. Aside from the extra twists of wild colors, this is the same traditional preparation method that your favorite corner bagel shop uses.
Give everything a thorough read before getting started, then have some fun! And please share your progress and your beautiful bagels with us on Facebook and Instagram at @FarmSteady. Enjoy!
---
Let's Get Started
Step-by-Step Instructions

---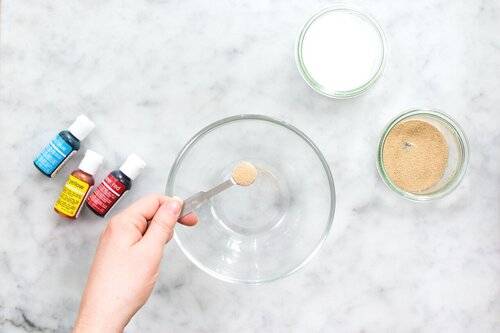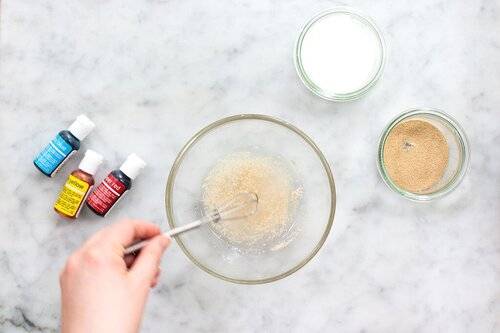 Using 6 bowls (one for each color in your rainbow), combine 1/4 tsp yeast, 1/4 tsp sugar, and 2 oz of warm water. Stir gently. Let sit until cloudy, about 5 minutes.

Add food coloring to respective bowls of proofed yeast and mix.
Color Guide
(Number of drops to make each color)
Red = 4
Orange = 3 Yellow + 1 Red
Yellow = 6
Green = 3 Yellow + 1 Blue
Teal = 6 Blue + 1 Yellow
Purple 2 Red + 1 Blue

Add 1/6 of your bagel baking mix (~ 2/3 cup) to each bowl of proofed yeast and food coloring solution. Stir to incorporate, then knead for 3 to 5 minutes until it forms an elastic ball and color is even throughout.

Tip: Flour can compact in transit and we don't want you to get to the last color and not have quite enough so we recommend either sifting your baking mix then measuring, or dividing it into six even portions before adding to your color mixtures.
Cover with plastic wrap. Let rise in warm area until dough has roughly doubled in size, about 45 minutes.
Cold Weather Tip: Make sure to let your dough rise in a warm area. Yeast (much like the rest of us) is a bit sluggish in the cold and it may take 15 to 30 minutes longer for your dough to rise.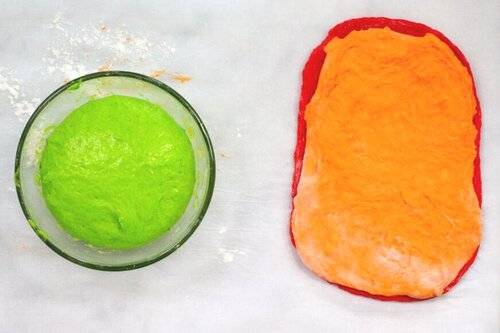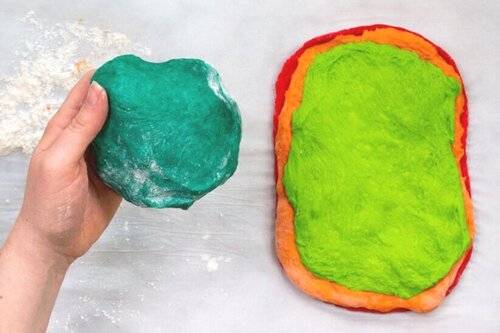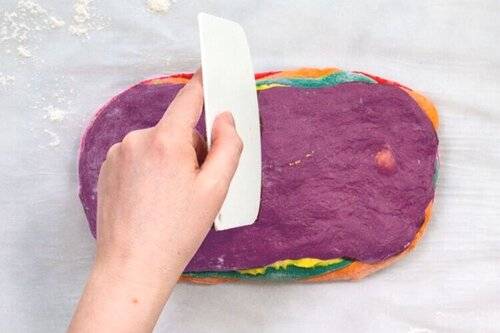 Layer each color on top of each other, using your hands to press into an even layer.
For a classic rainbow, layer in this order: Red, Orange, Yellow, Green, Blue, Purple.
Cut dough stack down the center and put one half on top of the other so that the stack now has two layers of every color.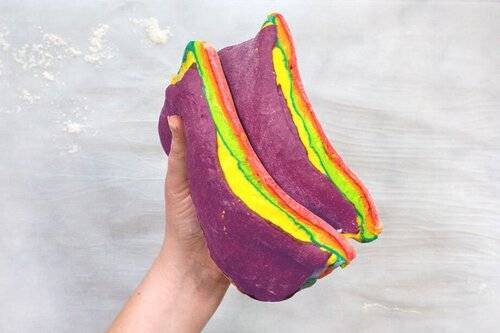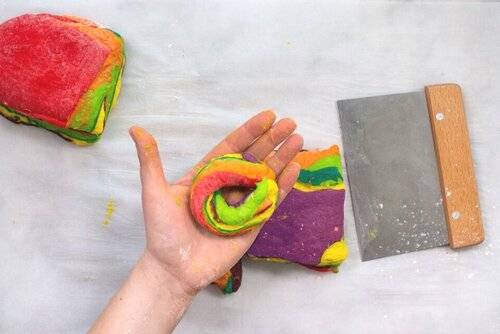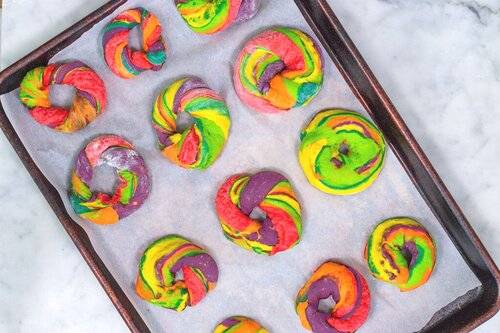 Slice dough into 12 strips, then roll each into a rope. They should be about 1" (2.5 cm) thick, 6-8" (15-20 cm) long. Wrap each around the outside of your hand to form a loop (twisting lightly to spiral colors), then press ends together to seal. Cover with a clean dish towel.
When you are done forming the dough, you should start heating up your water bath and preheating your oven to 400° F (204° C). For your water bath, bring 4 quarts (4 L) of water to a boil in a stockpot over medium-high heat.
Use a large slotted spoon to add 1 or 2 bagels to the water bath. Boil for 1 minute, turning bagels over half-way through. Remove bagels with spoon to a clean kitchen towel and pat dry. Repeat for all bagels.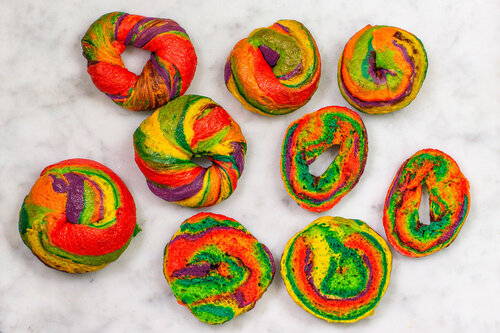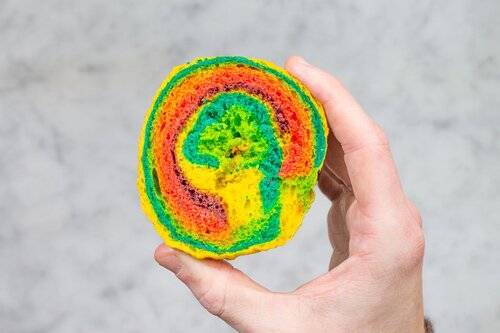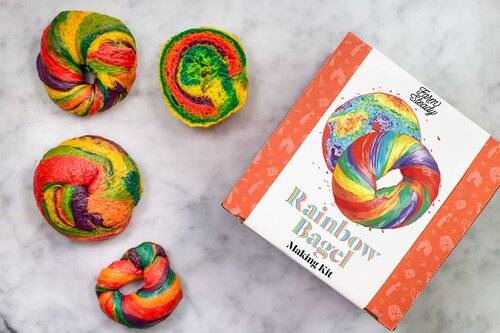 Place bagels on a baking sheet lined with a baking mat or parchment paper.
Bake for 20 minutes at 400° F (204° C).
---
Eat. Share with the world, and try something new.