How to Make Sourdough Bread
Instructions For Use With:
---
---
Round Natural Fiber Banneton

Fabric Banneton Cover

Bread Lame

Bench Scraper (Metal + Wood)

Flexible Dough Scraper (Plastic)
Bread Pan — Ideally with a cover (either a Dutch oven or Baking Cloche)

Kitchen Scale

Parchment Paper (Optional, but helpful)

Spray Bottle with Water (Optional, but helpful)
100 Grams Active Sourdough Starter (How to Make a Sourdough Starter)

500 Grams White Bread Flour

350 Grams (350 ml) Warm Water — Plus 10 ml (2 tsp) Additional Water

10 Grams Kosher Salt
---
Let's Get Started.
Step-by-Step Instructions

---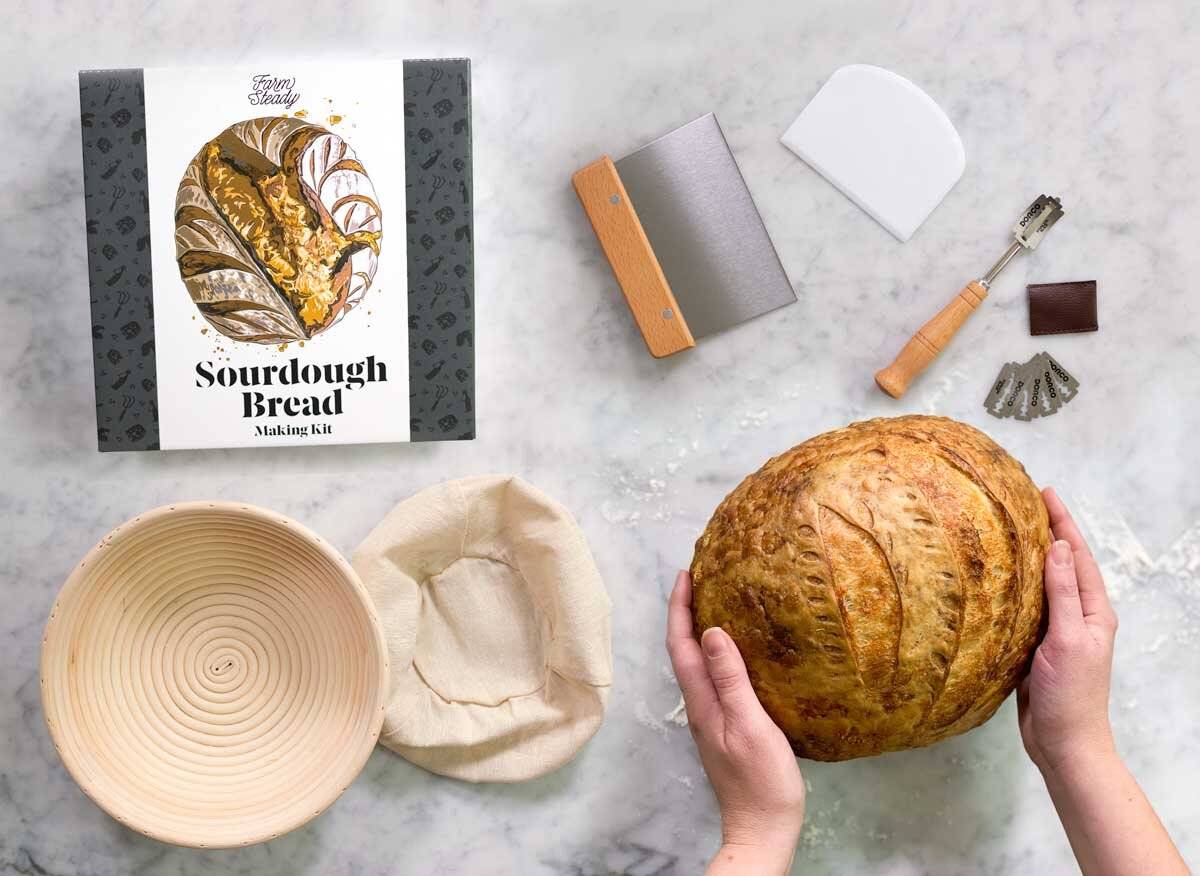 Baking your own homemade loaf of sourdough is an absolute joy. Artisanal sourdough is a naturally leavened and fermented bread that sports a thick, crunchy crust, chewy interior, and downright complex tangy flavors.
Sourdough doesn't require commercial bread yeast. The yeast and bacteria cultures used in making sourdough comes from the flour and the environment. It gets added to your dough in the form of a starter. Don't have a sourdough starter? No problem. Making your own starter is really easy. Check out our step-by-step sourdough starter guide to get ready for making your own loaf.
The following is designed as the perfect sourdough recipe for beginner bakers. It's not a super-high hydration recipe as far as artisanal sourdough is concerned. It's 72% hydration, which makes it pretty easy to handle from start to finish while still allowing for big air pockets to form in your bread—which is such a big part of why we love sourdough. Give this recipe a try. We think you'll really enjoy baking your own sourdough. Still need equipment? Check out our Sourdough Bread Making Kit.
---
---
1.
Ready Your Sourdough Starter
To bake a delicious loaf of sourdough, you need a healthy sourdough starter.
If you don't have a sourdough starter, there's no need to worry. You have two choices. You can either get some from a friend or local bakery, or you can make your own. Making your own starter is easy, and it only requires flour, water, and some time.
Learn how to grow your own sourdough starter in our step-by-step starter guide.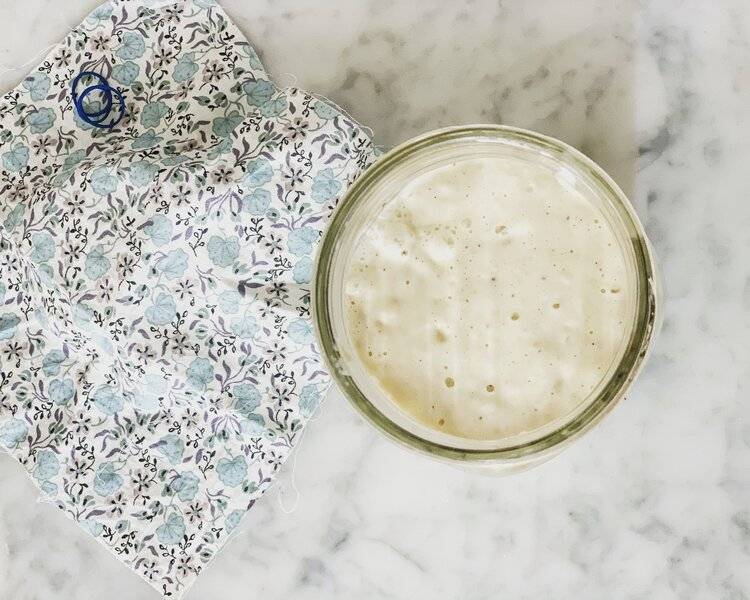 A healthy sourdough starter.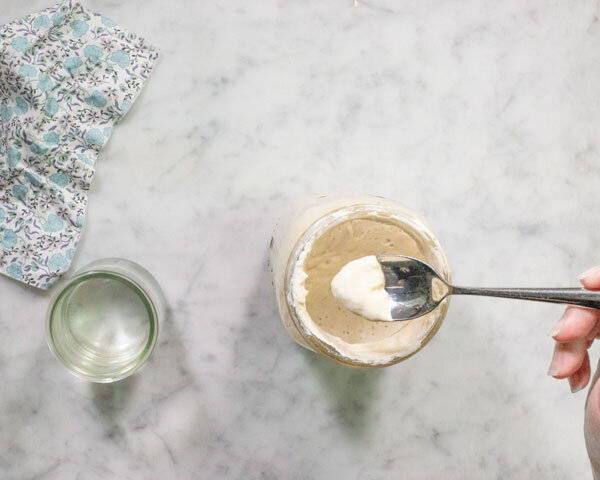 To confirm it's ready, conduct a float test.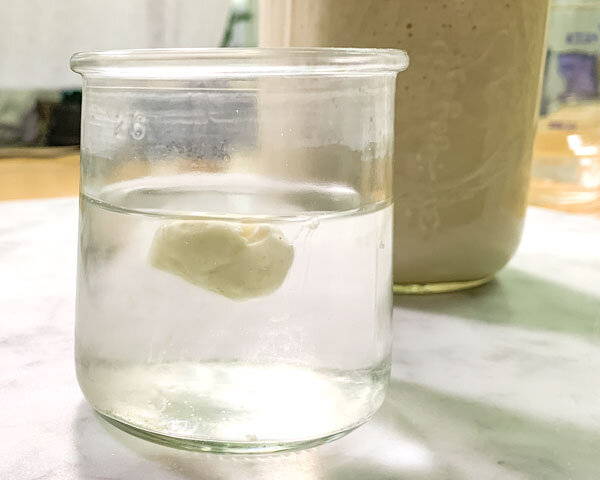 If your starter floats, it's ready to use.
Once you have a healthy sourdough starter, you'll need to get the timing right.
The night before you plan to start baking, feed your starter. (Use the same weights and flour-to-water ratios that you normally would feed it.) The next morning (when you're ready to get started), do a float test. To conduct a float test, spoon a little bit of your starter into a bowl of water.
If your sourdough starter floats, it is ready to use. (It's OK if it breaks up a little bit in the water.) If your starter sinks, the timing isn't right, and you should wait. Feed your starter, and do another float test when you see bubbles form and notice the starter visibly increasing in volume.
The purpose of the autolyse is to hydrate your flour and to begin building the structure of your dough.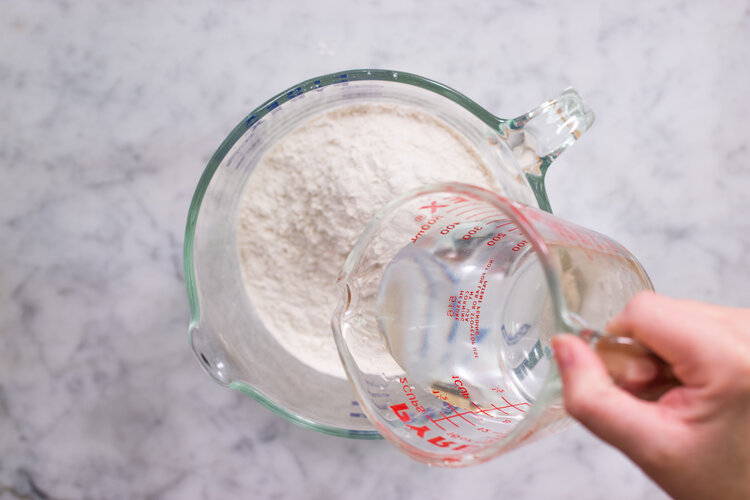 Add 350 ml water to 500 grams bread flour.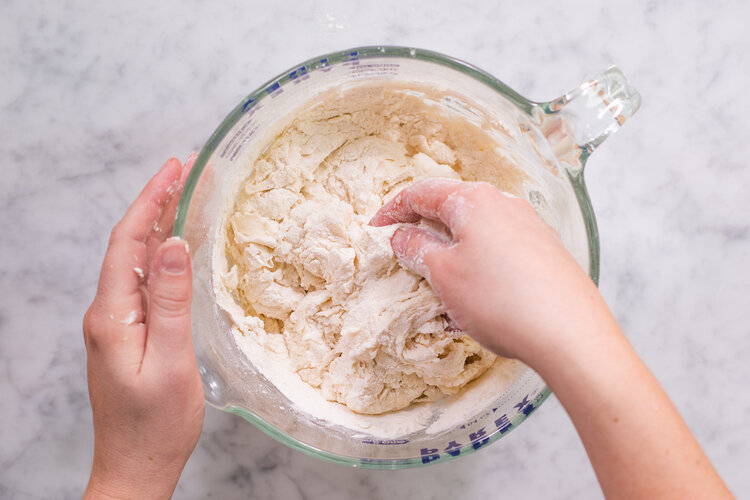 Mix until fully combined.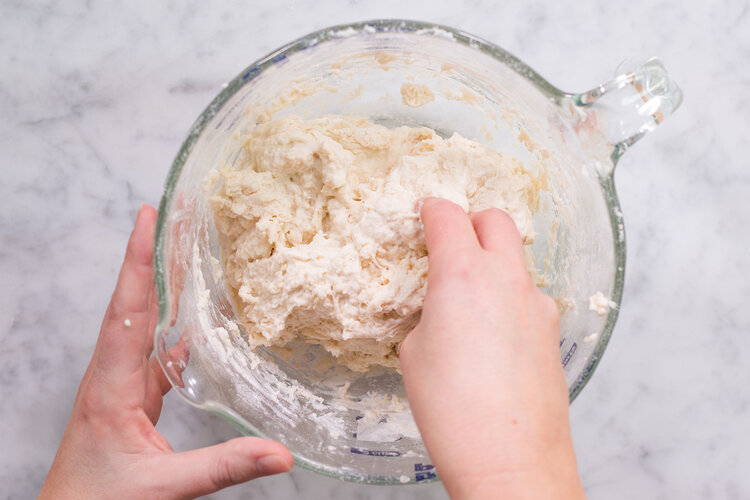 Cover and let rest for 30 minutes.
In a large bowl, combine 500 g bread flour with 350 ml water. Mix flour and water with hands or flexible dough scraper until dough is hydrated with no dry patches flour. Cover with plastic wrap or a dish towel, and let sit for 30 minutes.
Now that your dough is hydrated, you'll add starter, then knead to strengthen your dough's structure.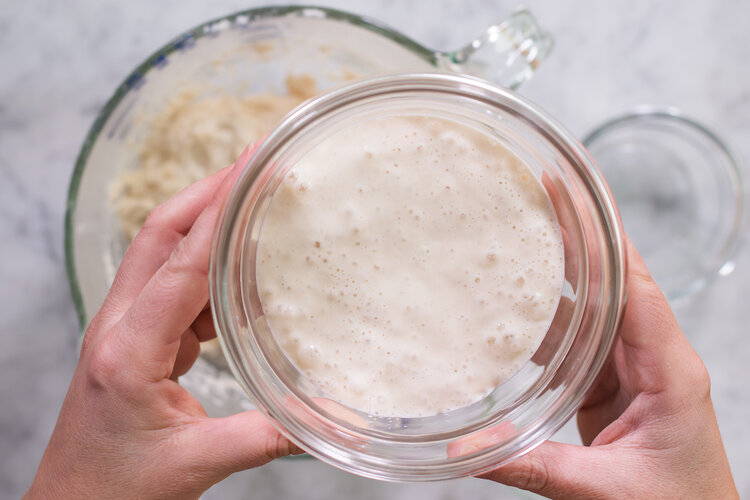 Add 100 gram active starter and 10 ml of water, Fold to combine.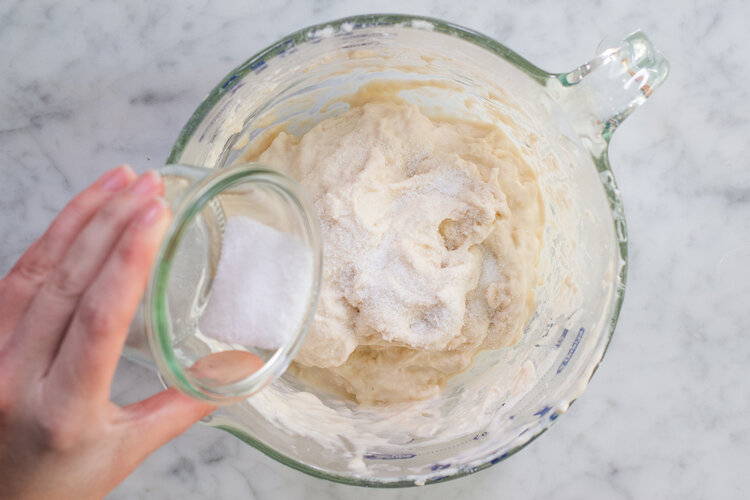 Sprinkle 10 grams of salt over dough.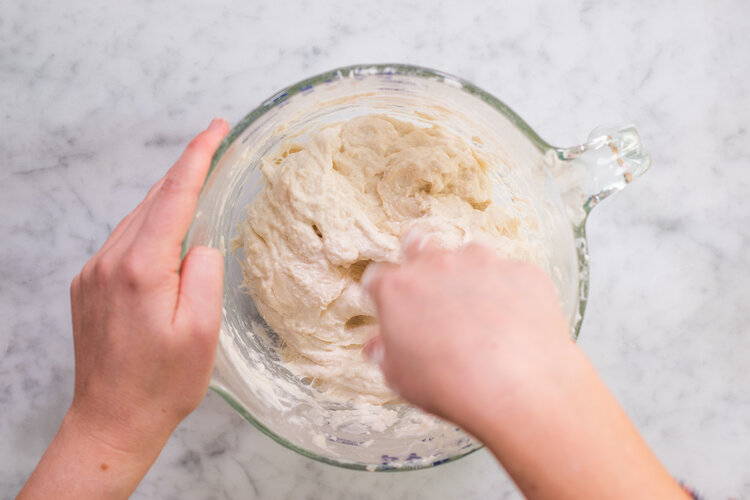 Knead for 10 minutes. Cover and let rest for 30 minutes.
Add starter and remaining 10 ml (2 tsp) water to your dough. Using your flexible dough scraper and your hands, fold, pinch, and knead until starter is fully incorporated. Sprinkle with salt. Knead for 10 minutes. Cover your dough. Let rest for 30 minutes.
Stretching and folding your dough helps develop your bread's glutens, which will provide your sourdough with its signature chewy interior. You'll perform this step 4 times with a 30 minute rest after each set of folds.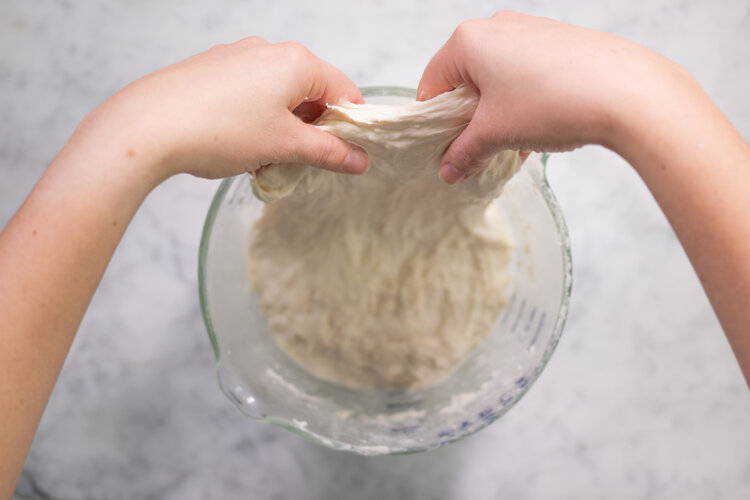 Gently lift your dough up, letting it stretch but not tear.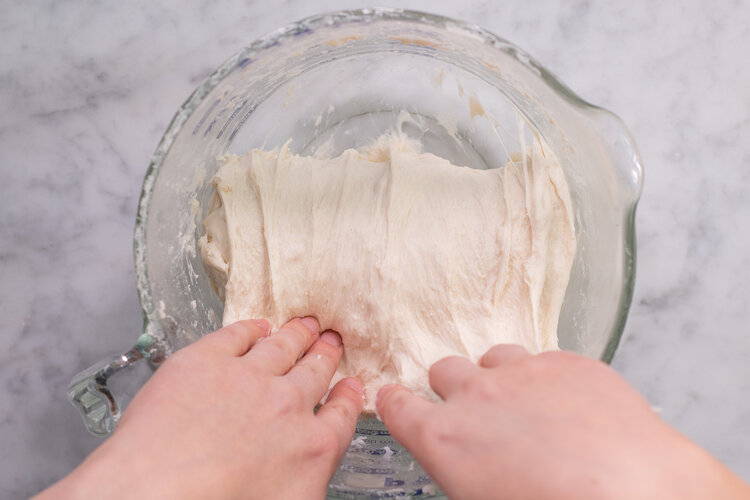 Fold over. Turn your bowl 180 degrees and repeat.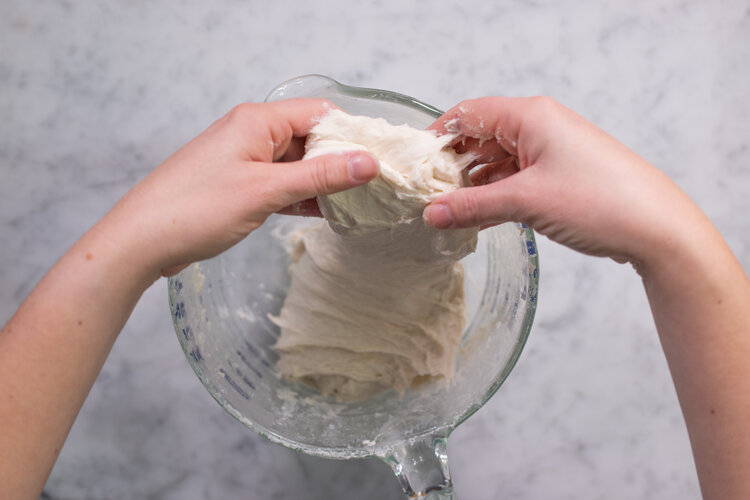 Turn your bowl and repeat for the other two sides.
Stretching and folding is exactly what it sounds like. During the stage, you'll be stretching your dough upward and folding it back down over itself—rotating your bowl of dough in between folds.
To get started, gently lift one side of your dough, stretching it upward. Fold and lower the raised dough back down so that it covers the remaining dough in your bowl. Be careful not to tear the dough when lifting.
Rotate your bowl 180º. Repeat the stretch and fold.
Now, rotate your bowl 90º. Repeat the stretch and fold.
Rotate another 180º, and repeat the stretch and fold one more time.
Cover your dough. Let it rest for 30 minutes.
Repeat the above set of stretch and folds every 30 until you have completed 4 sets. This should take about 2 hours. After your final set of stretch and folds, cover your dough.
During this stage, the dough can be a little sticky. It helps to wet your hands if you're struggling with the dough sticking too much to your hands.
.
This is when yeast and bacteria truly work their magic—creating complex flavors, gases, and structure within your dough.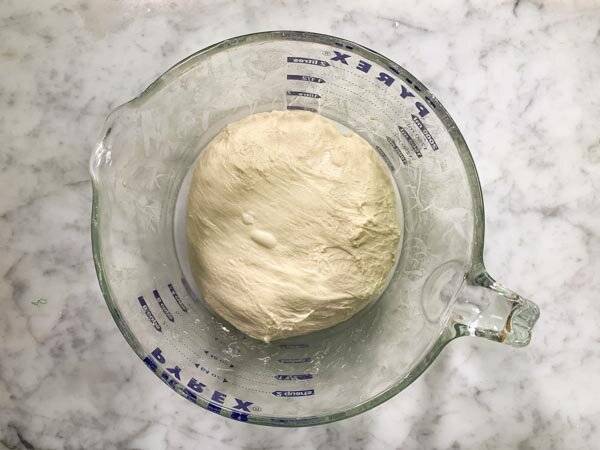 Dough at the start of bulk fermentation.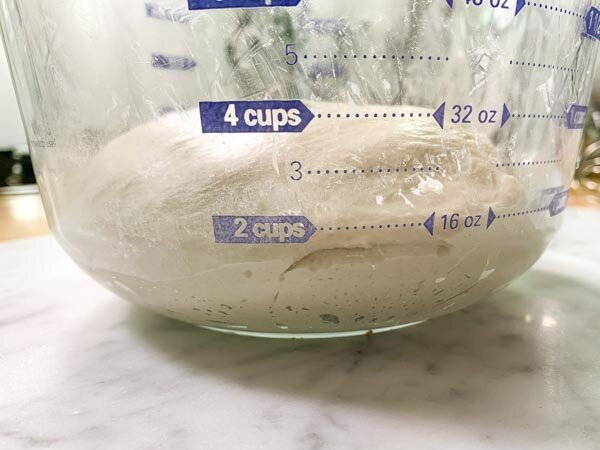 Air bubbles forming during bulk fermentation.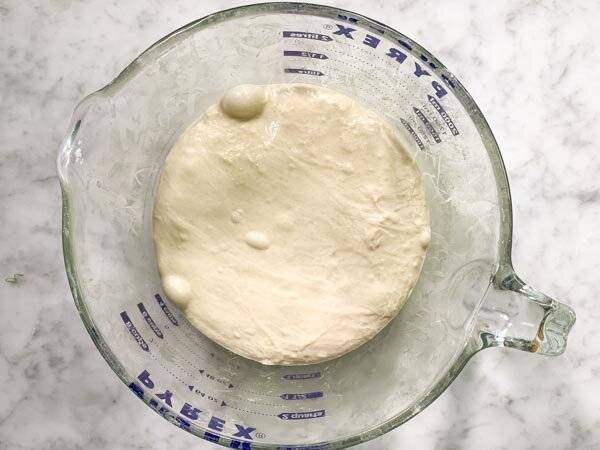 Dough near the end of bulk fermentation.
Let your dough proof in a warm area for 2-4 hours.
One thing to note is that your dough may not proof at the same rate every batch. For example, on a warmer day, your dough may proof more quickly. Yeast (much like the rest of us) is a bit sluggish in the cold and it may take 15 to 30 minutes longer for your dough to rise on colder days.
When your dough is ready, it will not quite have doubled in size (approximately expanding 1.5x in volume).
The dough will have a slight wobble to it—appearing lighter and bouncier. Its surface will be smoother than when bulk fermentation began. You'll notice some bubbles and aeration in the dough, and if you poke your dough with a wet finger, you should feel resistance and springiness.
After proofing, you want to strengthen your loaf's surface tension while gently forming it into a neat ball.
Turn dough out on lightly-floured surface.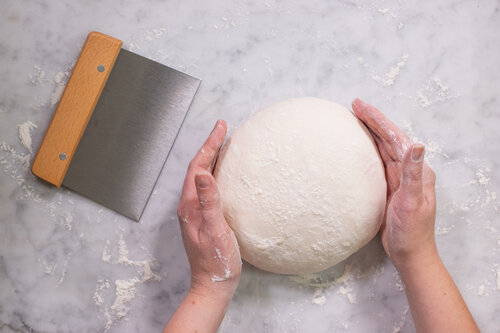 Gradually form into a smooth ball of dough.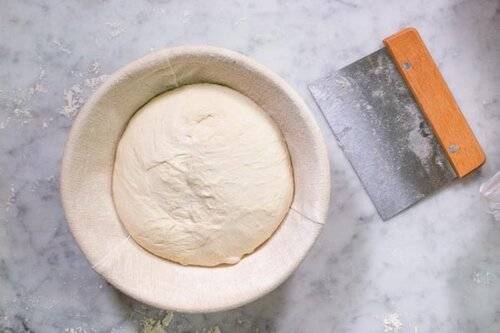 Place into floured, cloth-covered banneton.
Before forming your loaf, you should prepare your banneton. Place your cloth cover over your banneton. Liberally coat the inside of your cloth-covered banneton with flour. Rub the flour into the cloth. Set aside.
To begin forming your loaf, lightly flour your work surface. Slowly and gently empty your dough onto the surface, trying your best to maintain its current shape. Use a plastic flexible scraper to help remove the ball of dough from your bowl.
Using your hands (and your metal bench scraper also helps), continuously tuck the sides of your loaf under itself. Slowly rotate your loaf while continuously tucking the sides under the loaf. During this step, you want to strengthen your loaf's surface tension so that it maintains its structure while baking. Over-working can hinder your loaf's rise by pressing out the air that formed during bulk fermentation. So keep your movements deliberate.
While forming, the dough can sometimes feel a little wet and unwieldy. If it does, add a little flour to your hands.
When you have a smooth, taught ball of dough, gently lift it from your work surface (the metal bench scraper is helpful here).
Place your loaf top-down into the floured banneton. The bottom of the loaf should now be facing up when sitting in the banneton. If there is a big seam across the top of your loaf, pinch it closed using your fingers.
Cover your banneton with a dish towel or cloth and then cover with plastic. The easiest way to do this is place your banneton into a plastic bag
.
Proofing your loaf slows fermentation and contributes to sourdough's signature depth of flavor.
Move your covered banneton to the fridge. Let it sit overnight (8-12 hours).
Scoring your loaf serves two major purposes. First, it allows steam to escape while baking—allowing for an even rise and clean crust. Second, it allows you to get creative and provide your sourdough with a personal touch.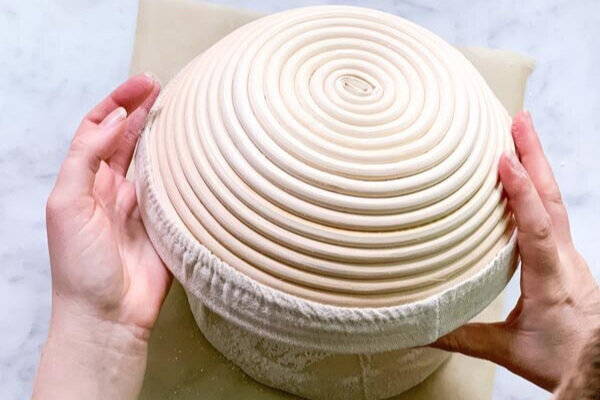 Turn dough out onto work surface.
Score loaf using bread lame.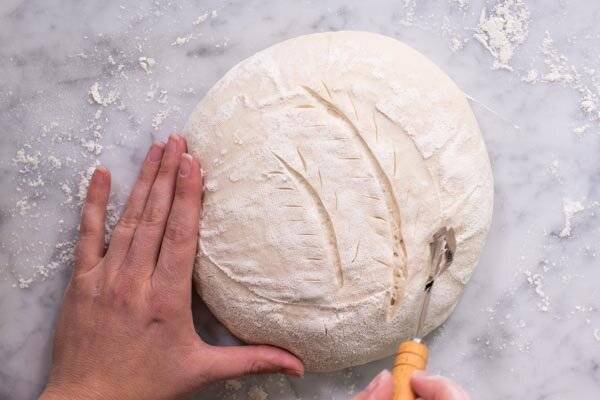 Keep it simple, and add more intricate designs.
Preheat your oven to 475ºF. If you're using a Dutch oven, bread baking cloche, or pizza stone as your bread pan, you should place it in the oven to get hot. We generally use a heavy, cast-iron Dutch oven with a cover as our bread pan.
At this time, you should also prepare your bread lame. Your lame should have come with a set of razor blades. Very carefully attach a blade to the top of your bread lame. When complete, the blade should be slightly curved.
When your oven and bread pan are at temperature, remove your banneton from the fridge, and uncover.
Remove your bread pan from the oven. If it has a lid, you can now uncover it.
Optional, but helpful: Cut a piece of parchment paper to roughly the size of your bread pan. Baking your bread on top of parchment paper can help keep it from sticking and make cleanup easier.
Gently and slowly turn your banneton upside down onto the parchment paper you just cut or onto a lightly-floured work surface. If the dough sticks to your banneton, don't lift the banneton any further. Slowly scrape the dough off of the banneton using your plastic flexible scraper. Disturbing your loaf too much at this stage can force air out of your loaf.
Once your dough is out of the banneton, score your loaf using your bread lame. The score lines you make are where the crust will expand while baking. Scoring can consist of slicing one or two simple curved lines into the top of your loaf, but this is just a starting point. You can get much more creative with practice.
After scoring, gently lift your dough into your hot baking pan. If you used parchment paper while scoring, you can simply lift the parchment paper and the dough sitting on top of it, and place the whole thing into your pan. If you did not use parchment paper, you can gently lift the loaf (using the metal bench scraper), and carefully place it into your bread pan. Note that your bread pan is very hot right now, so you may want to wear oven mitts while doing this.
Optional, but helpful: If you have a spray bottle filled with water, give your loaf a good couple sprays to wet it. The additional moisture allows for your dough to rise in a steamy environment before forming a hard crust.
It's time to get your loaf in the oven!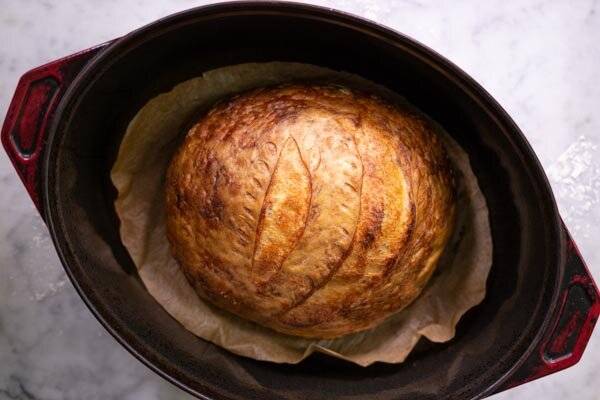 Sourdough coming out of the oven.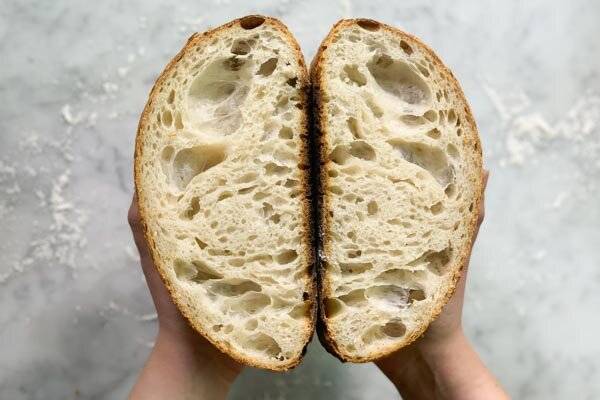 Finished sourdough loaf cut in half.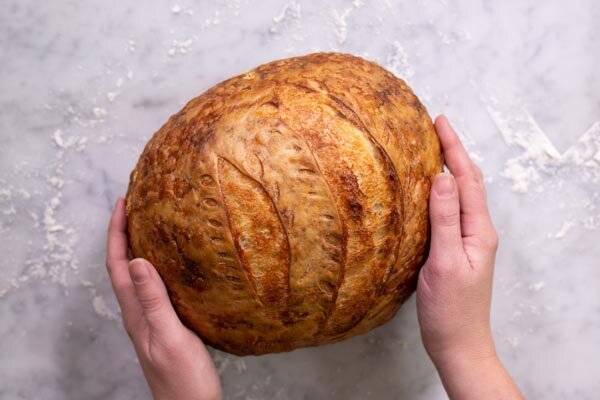 A successful golden brown loaf of sourdough.
Cover your bread pan, and place in the oven. Bake at 475ºF for 25 minutes.
After 25 minutes, remove the cover from your bread pan, and bake uncovered for an additional 20-25 minutes. Check your loaf as it nears the end of its bake—removing it when you've achieved a perfectly browned crust.
Success! You have your first loaf of sourdough.
Remove bread pan from the oven. Transfer bread to a wire rack. Allow bread to cool completely (1-2 hours) before slicing into it.
---
Eat. Share with the world, and try something new.