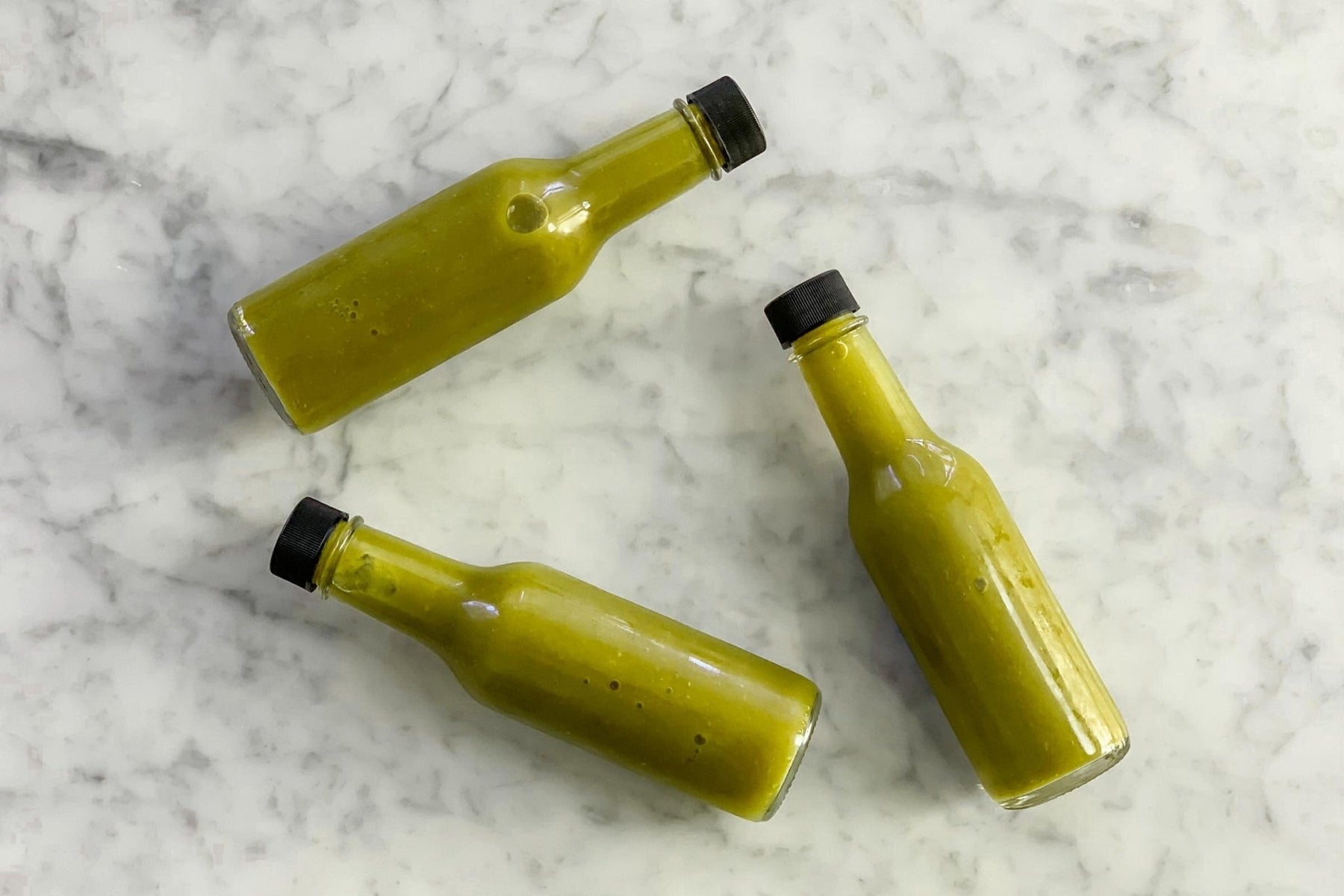 Recipe: Fermented Papaya Thai Chili Hot Sauce
One of our go-to takeout fixes is Thai, and we never forget to add on an order of papaya salad (known as som tum). This Thai green papaya salad, uses a combination of flavors like lime, chili, palm sugar, fish sauce, peanuts and cilantro with crunchy unripe green papaya strips and long beans to create a delicious and refreshing salad.
We love the intense layers of flavor. Papaya salad is bright and refreshing with a bracing acidity and alternating hits of chili heat and sweetness. And because we love our fermented hot sauces, especially with a bit of tropical fruit for that all-round fruity and tangy burst of flavor we wanted to incorporate the flavors found in papaya salad in our next hot sauce recipe. Taking inspiration from som tum, we came up with a great recipe for a fermented Thai hot sauce, featuring all the great ingredients you will find in the salad.
What exactly is a fermented hot sauce?
Fermented hot sauces are the best. Fermenting chili peppers give them a super complex savory flavor (umami) and tang that makes good hot sauce so incredibly good. Fermentation is the secret ingredient in hot sauce (and is why even your favorite commercial examples like tabasco are fermented too). And when we say fermented we're talking about lacto-fermentation. For lacto-fermentation you basically only need salt, water and a vegetable/fruit and of course a bit of time. When your ferment is ready, it will smell slightly sour with an acidic and tangy taste, making it the perfect method to create your home made fermented hot sauce.
The main ingredients for our Thai hot sauce are Thai chili peppers and papaya. Thai chili peppers come in different varieties, but the hottest one, and probably the one you will find in most supermarkets today, is that small green or red chili, also known as a Bird's Eye chili. And yes, it's hot, very hot. Green papayas will be more difficult to find, but for this recipe using a ripe but not too-ripe (orange) papaya is perfectly fine.
All you need to do is chop your chilies, either with seeds (hotter) or without, and layer it in your fermenter with your chopped papaya. Our additional recommended ingredients for an authentic Thai flavor are scallions, cilantro, garlic, lime peel and fish sauce. It will create a depth of flavor in your hot sauce paired with a good burn. If you prefer to go vegan, you can swap in soy sauce or coconut aminos for the fish sauce, or omit. Weight all your ingredients down with a fermentation weight, add your brine, seal with an airlock and voila, all you have to do now is wait.

Once your ferment is ready, you can blend the ingredients into a sauce, using some of the brine and white vinegar as liquid. The chilies will keep fermenting, so store your fermented hot sauce in the fridge to slow down fermentation. You can enjoy your fermented hot sauce as a delicious condiment on salads, barbeques, fish, basically anything you want to give an extra flavor kick to.