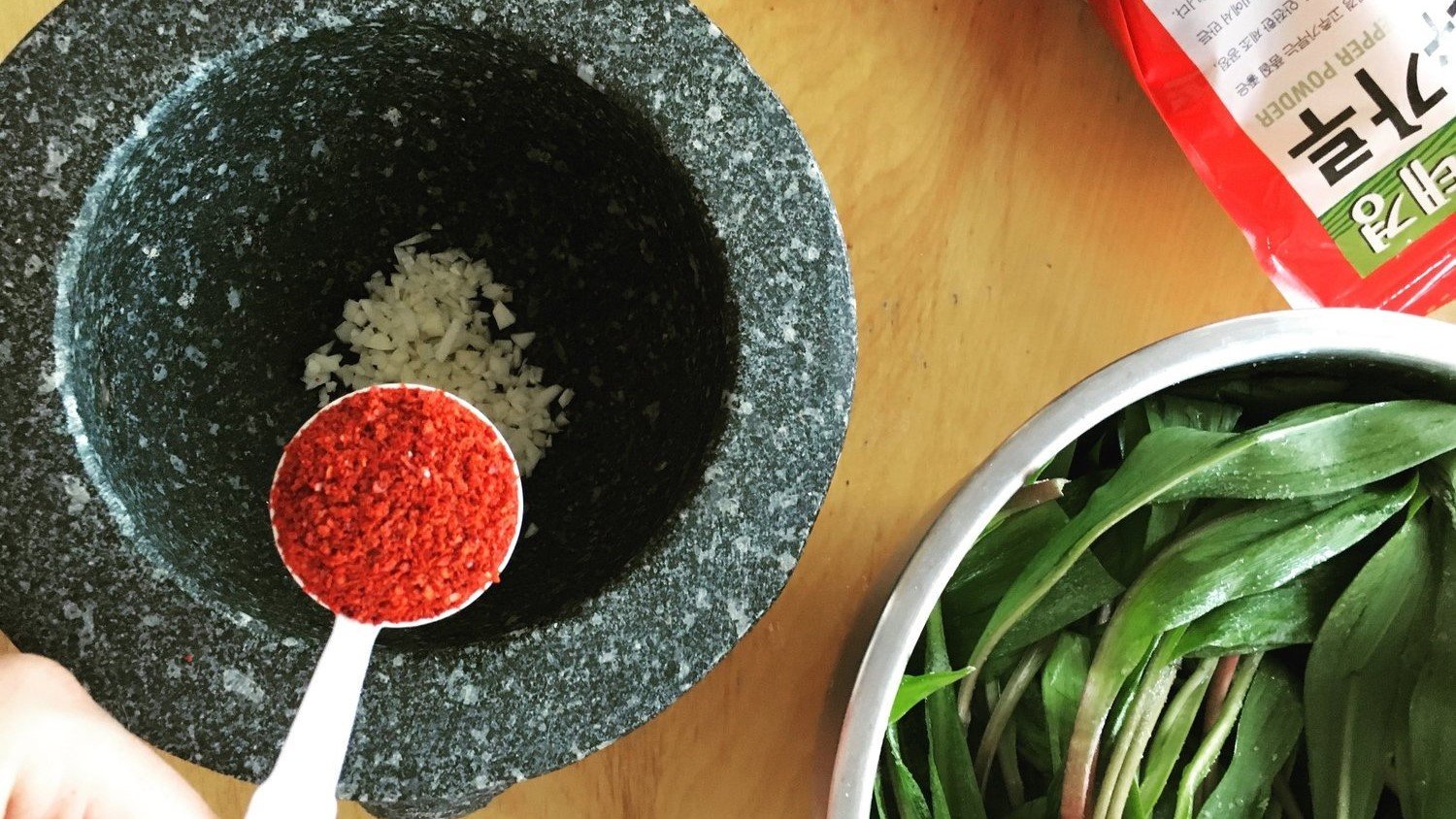 Recipe: Ramp Kimchi
Every year, in mid-April, it feels like the entire East Coast holds its collective breath in anticipation of ramp season. When ramps, or wild leeks, finally emerge from the ground, professional chefs and amateurs alike hit the trails en masse to forage for these green, onion-scented shoots during their very short season. The adventure of finding them, coupled with the reward of their delicious and versatile flavors, has whipped up a veritable frenzy around ramps, making it more important than ever to do our due diligence in protecting the crop to make sure there's plenty to go around next year, and for many years to come.
Ramps are easy to identify in the wild because their leaves give off a powerful onion scent, so you can be sure of what they are before you pull them from the ground. In fact, we don't recommend pulling them out of the ground at all if you're foraging them. It's best to use a foraging knife to harvest the leaves from the stalk, leaving one leaf on each plant and the bulb and roots in the ground so it has a chance to spread more tasty ramps. Be sure to only forage what you're going to eat (we recommend <10% of a patch) and leave the rest behind.
If you won't be hitting the trails to forage your own, check your local farmer's markets for sustainably (double check with the vendor) harvested ramps.
The bold garlic aromas of ramps make them a perfect pairing for the deep, funky flavors of kimchi, and they maintain their dark green color beautifully through the fermentation process. The leaves become silky and tender, and retain their own unique flavors against the kimchi paste, while the bulbs (if you choose to include some) stay crunchy and pungent. We like them on top of cold sesame noodles, in kimchi fried rice, or on top of toast with a soft-boiled egg. Ramps are also packed with Vitamin C, making this kimchi a snack that's as healthy as it is delicious.