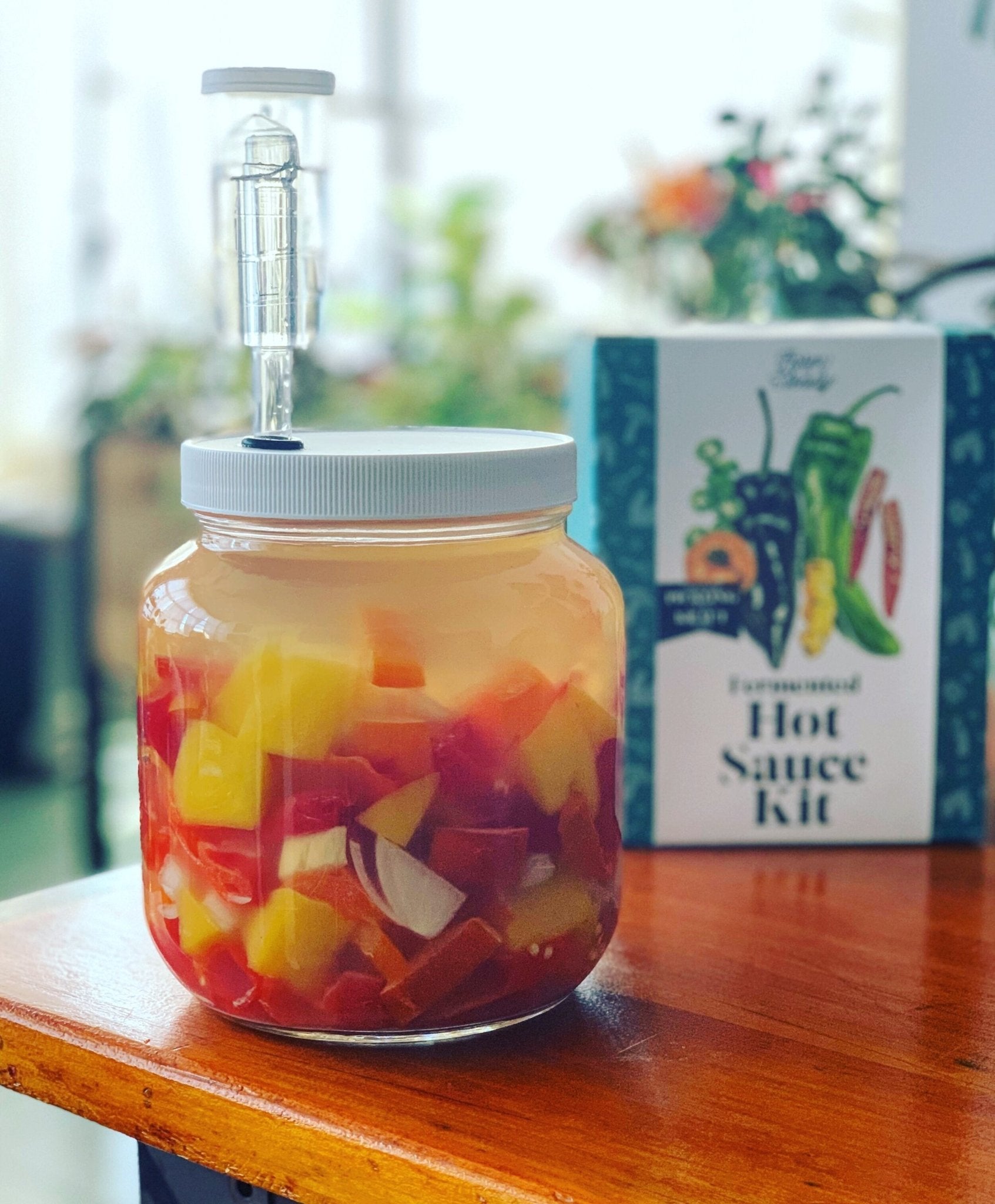 Recipe: Mango Habanero Fermented Hot Sauce
This fermented hot sauce recipe is one of our all-time favorites (and one of our most requested).
Fermenting this hot sauce with our Fermented Hot Sauce Kit adds a rich, fruity, and spicy depth of flavor. Fermentation is the secret ingredient that makes really good hot sauce truly stand out. It absolutely makes for the best hot sauces. When we say fermentation, we're specifically talking about lacto-fermentation. This method of preserving adds loads of probiotic gut-friendly bacteria and layers of umami flavor. Plus, natural fermentation is easy. Lacto-Fermentation is about gathering good ingredients, following a few simple steps, and waiting for your rich, spicy flavors to mature.
Ready to start making your own homemade fermented hot sauce? Great!
The main ingredients of this fruit-forward hot sauce are mangos, habaneros, and ginger.
When choosing mangos for this recipe you want to go with ones that are ripe, but not overly ripe. They should still be a bit firm (not squishy) and smell deliciously of tropical mango.
We love pairing habanero peppers with fruit-forward hot sauces, they pack some real heat are delightfully fruity and readily available year-round. Scotch bonnet peppers, which you may use in some Caribbean-style hot sauces, also work beautifully in this recipe (but aren't as easy to find). The heat level on this sauce is hot (you're using TK lbs of peppers here!), so if you are looking for a fruitier pepper with a lower heat level, Fresno peppers work great too (and are the star of our Fermented Peach Hot Sauce Recipe). To make this hot sauce even hotter, you can leave the seeds in or add a couple super-hots (like Carolina reaper peppers or ghost peppers).
The flavors of this hot sauce are rounded out by the addition of ginger, garlic, and onion. Fresh ginger plays beautifully with the fruitiness of the mango and the spiciness of the habanero. You'll only taste hints of ginger in your finished hot sauce, but it will be enough to add depth to the mid-range of your palette. That way, you're not just taste fruit and capsaicin (aka the chemical that makes peppers so spicy).
Once all your ingredients are selected, you're just going to give them a few chops, add them to your glass fermenting jar, top with your fermentation weight, top with a saltwater brine, and cover with a lid and airlock for a couple weeks. (Don't worry, there's a more detailed recipe below). The glass fermentation weight keeps your ingredients submerged under brine. During lacto-fermentation, this is important. The brine protects your ingredients and keeps them fresh throughout fermentation. And when your hot sauce is finished fermenting, add a cup of vinegar and a cup of brine before blending to your desired consistency. Then, douse it over everything you eat!
After tasting your first homemade hot sauce, you'll be hooked. If you're anything like us, you'll be making batch after batch and have a fridge stocked with fermented hot sauce.