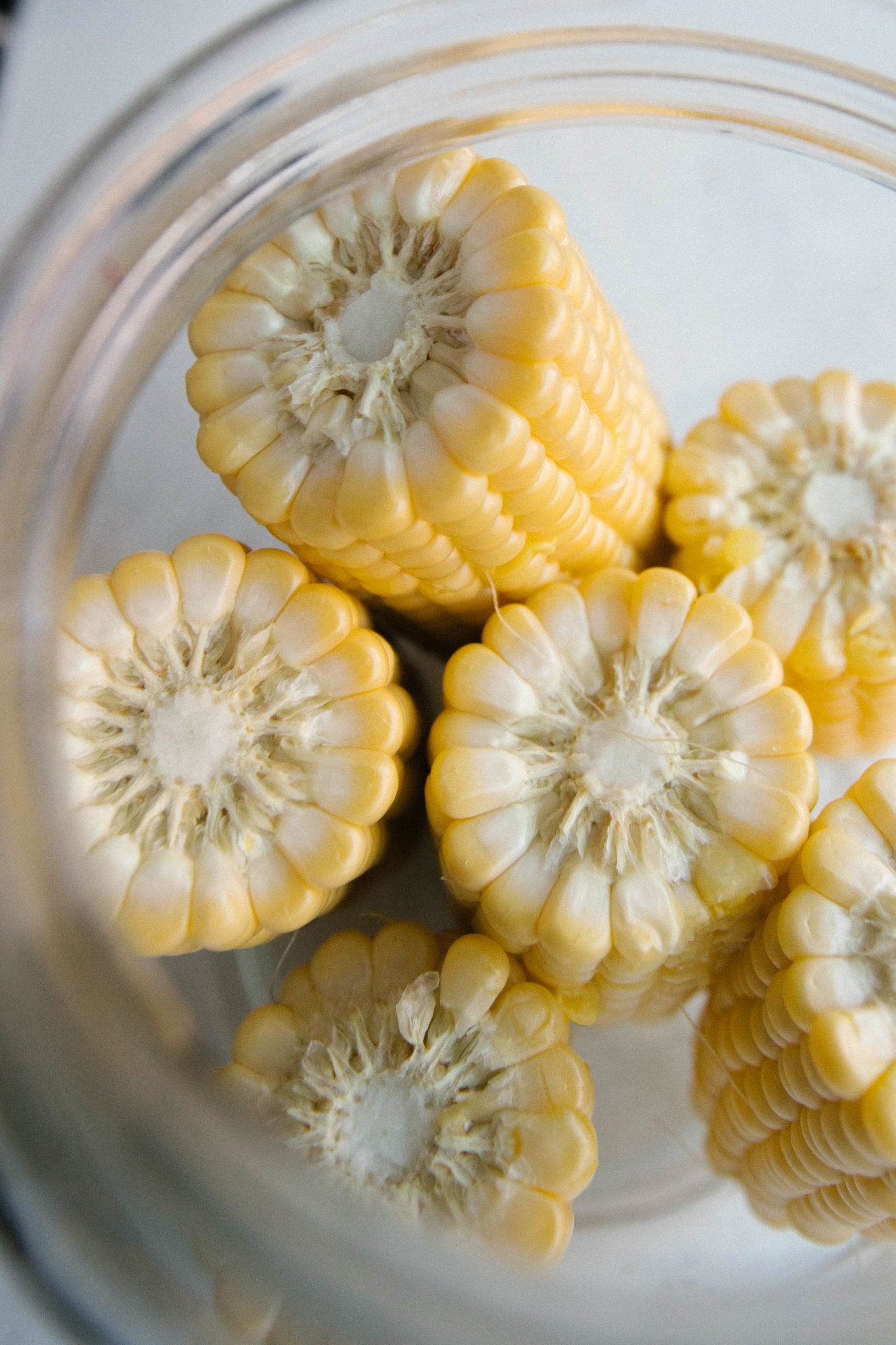 Recipe: Fermented Corn
Lacto-fermented corn is one of our favorite condiments to put on tacos, sprinkle on hot dogs, or even eat as a side salad. We love making this fermentation recipe during peak season because you'll want the corn to be as fresh and sweet as possible; like the kind of corn you can eat raw because it's that juicy. Fermenting corn is the perfect way to preserve that taste of summer for the months to come, and it's incredibly easy to do! If you typically don't love corn because of its sweetness, lacto-fermented corn is the perfect sour condiment that's also good for your gut. The best part is how simple it is to make. All you need is fresh corn still on the cob, salt, water, and your fermentation jug. Simple, and the final result will blow you away!
Fermented corn, or sour corn as some call it, is a very simple ferment and is definitely one to add to your must-try list. The juicy kernels are sour and pack an exciting burst of flavor, making it delicious enough to eat on its own or to use it as a relish. We love keeping a jar in the fridge and snacking on it with tortilla chips and even just eating it with a spoon. Seriously, it's that good.
How to ferment your corn
Making sour corn is easy and leaves room for you to get creative. For ours, we used three fresh ears of corn, two garlic cloves, two red chili peppers, and one tablespoon of kosher salt. You can also add in onion, bell pepper, and even tomato. We like ours simple with a little bit of spice, which is why we use chili peppers.
First, shuck your corn and cut the cobs in thirds. We really recommend making this dish with corn that is in-season, as fresh corn will retain some of its delectable crunch after fermenting. If you can't find super fresh corn or it's not in season, you will just have to steam it for a few minutes and let cool before fermenting.
We chose to ferment the corn while still on the cob so that it would be easier to keep all of the corn under the brine. If you'd like to remove the kernels ahead of time, just keep the husks and use them to hold down all of the kernels under your fermentation weight.
Next, you'll slice your garlic cloves and thinly slice your chili pepper. Add your garlic, chili pepper, and corn cobs to your fermentation jug. Dissolve two tablespoons of salt in a quart of water to make your brine and cover the vegetables until they are fully submerged, using your fermentation weight to keep them under the water. Add your airlock and let your corn ferment at room temperature for 5-7 days, tasting on day 5 and letting it ferment longer if it isn't sour enough for your liking. Once you're happy with the taste, transfer to a container with a tight seal and refrigerate. Your corn should keep for several weeks, just be sure to keep it submerged in the brine.
You can enjoy your sour corn on its own, alongside a Sunday football barbecue spread, in salads, and even on your avocado toast. Fermenting corn is surprisingly simple, with the most delicious pay off. Don't let summer's corn crop pass you by without giving this ferment a try.
New to fermenting? Check out our very own Fermented Vegetable Kit for everything you need to easily get started lacto-fermenting at home. Looking for more fermented onion recipes? Check out our Lacto-Fermented Red Onions Recipe.