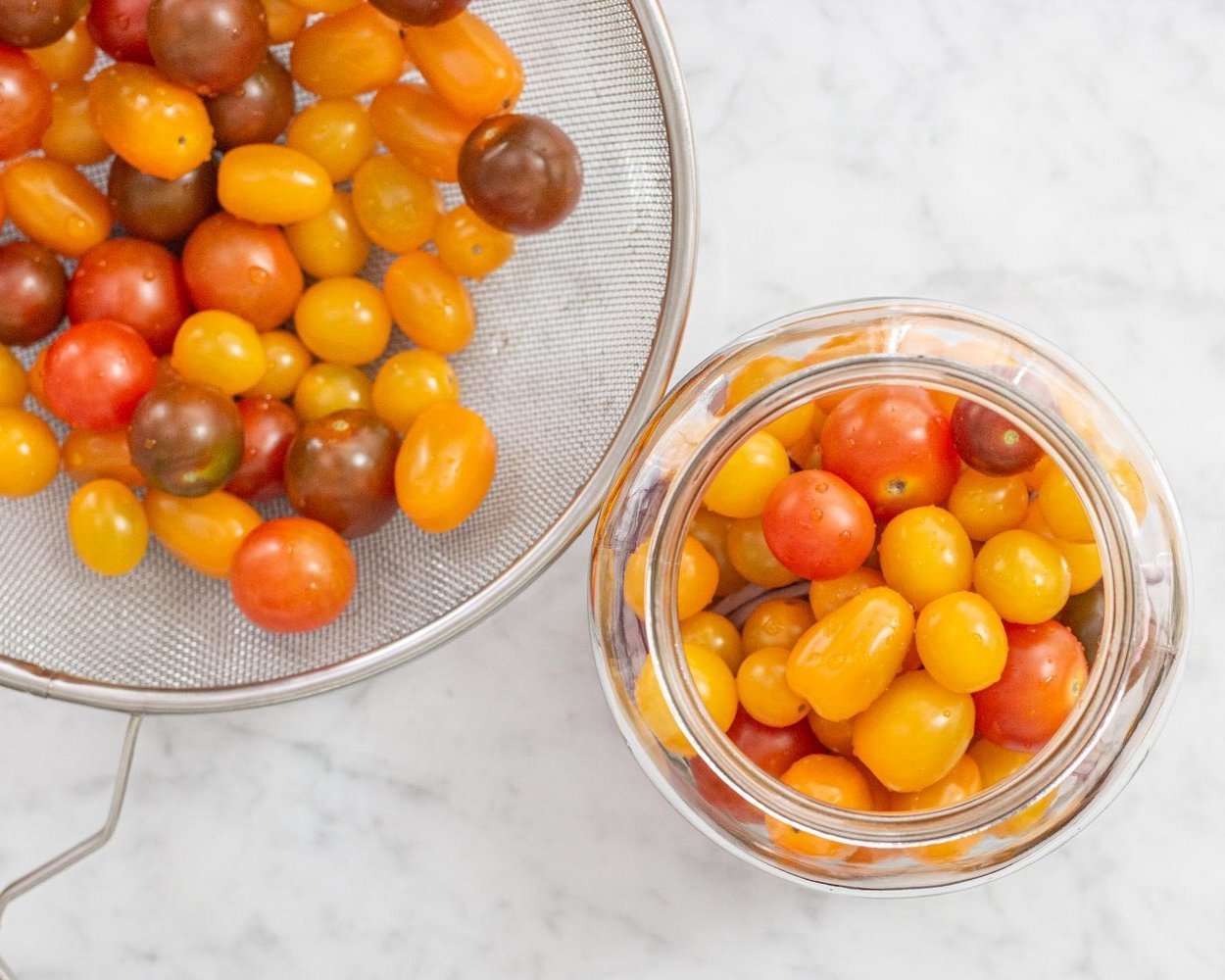 Recipe: Fermented Cherry Tomatoes
Cherry tomatoes are one of our favorite ingredients to have in the house. These versatile little spheres work perfectly in salads, tomato eggs, slow roasted for pasta sauces or even just as a lunch box snack. And by cherry tomatoes we really mean any tiny-variety (grape tomatoes we love you too) these miniature tomatoes come in different colors, from red to yellow to purple-black with varying levels of sweetness, acidity and overall juiciness. Each summer we try growing a variety: like atomic grape, pink bumble bee, and yellow pear varietals. And as delightful as cherry tomatoes are on their own, fermenting them not only extends their shelf-life but offers a burst of flavor and carbonation that makes this fermentation recipe a must make.
We have created and tested a wide range of fermented vegetable recipes, but when it comes to one that is super simple and gives you a bit of flair, this is it. All you need are your cherry tomatoes, aromatics of your choice and a brine. Really, it could not be easier. What makes fermented cherry tomatoes different from fermented cucumber or chilies, is the fact that the carbonation caused by the lacto-fermentation process builds up inside of the tomatoes. Yes, there's bubbles on the inside! The result is a super tangy-sweet tomato bomb that explodes and fizzes in your mouth every time. It's such a crowd-pleasing condiment to add to platters for parties, and kids love them too.
How to ferment your cherry tomatoes
Like we said, this is a really easy recipe. First off, you need to sort through your cherry tomatoes and put the ones that feel a touch soft to one side. You can use these riper ones for salads later. This recipe calls for firm cherry tomatoes. If they are too soft they will burst during fermentation, instead of trapping the carbonation inside.
Add your tomatoes to your fermentation jar and layer with your chosen aromatics. We used sliced red onions and pepper corns, but you can really use anything you have on hand. Think garlic, basil or a bit of thyme. Make your brine and cover your tomatoes. Add your fermentation weight and airlock. Your cherry tomatoes should ferment at room temperature for 6–8 days and can then be moved to the fridge.
You can enjoy these tangy fizz bombs just as they are, on cheese boards, or added to peanut noodles, wraps, grain bowls, pasta salad and so much more. Having tomatoes in the fridge (the place we thought no tomatoes should ever go) has been a total game changer for our kitchen-routine. Fermented cherry tomatoes are delightfully fresh, tangy and literally bursting with flavor. We can't recommend them enough.