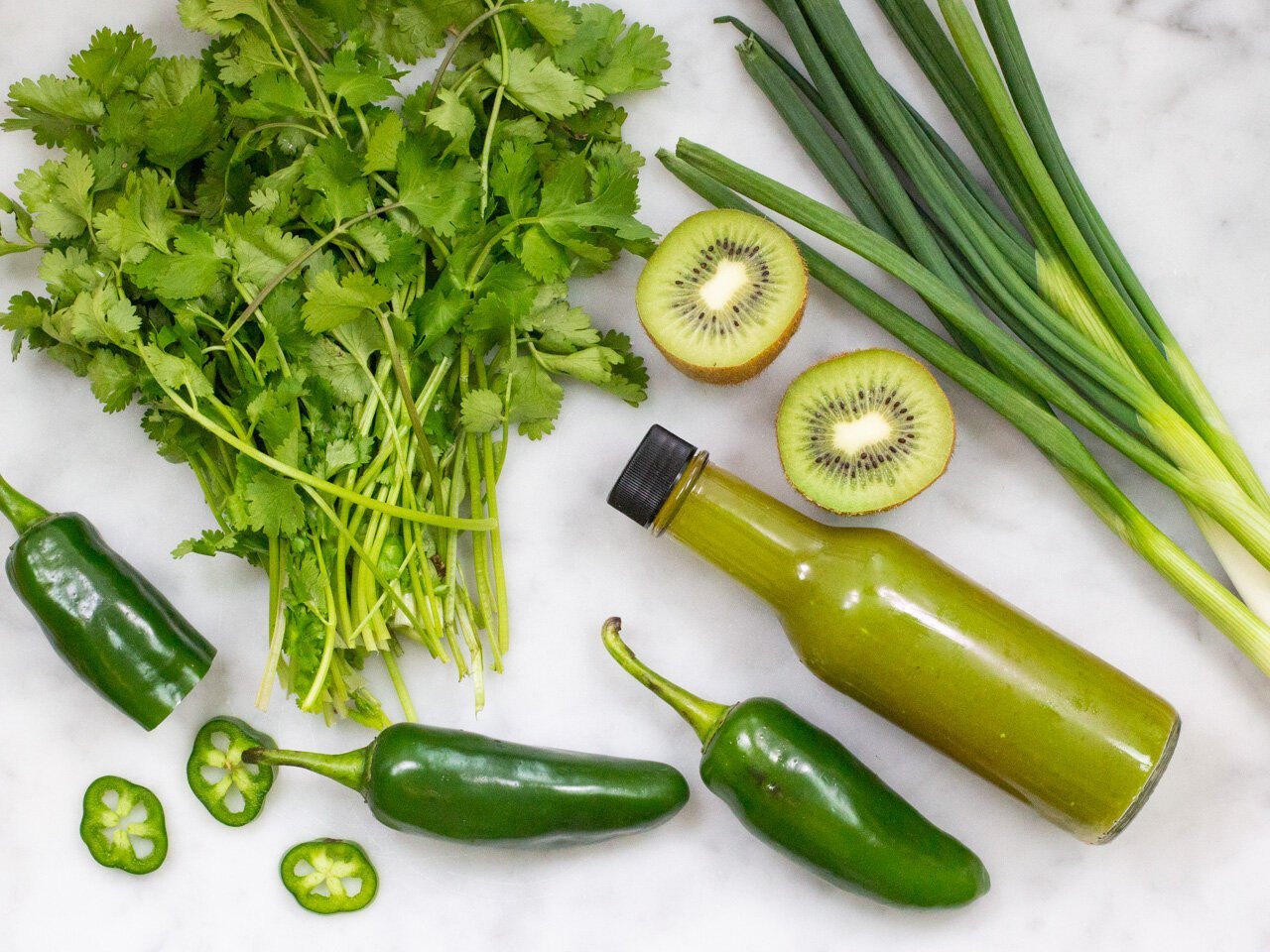 Recipe: Fermented Kiwi Jalapeño Hot Sauce
Kiwis are some of the most fun and lively tasting fruits we know. Their bright, tropical flavor and acidity make them the perfect addition to a batch of fermented hot sauce. Coupled with jalapeños, cilantro and scallions, kiwis produces a homemade fermented hot sauce whose color is a brilliant green with a vivid flavor to match.
And since the main spicy element of this hot sauce recipe is jalapeño (which has a relatively mild heat), this is a hot sauce you can douse liberally over anything in need of a light, tropical heat. It's one of our go-to fish taco hot sauces. It also adds a fun, delicate heat to pad thai and other noodle dishes.
Lacto-fermentation adds deep complexity to hot sauces. All the ingredients in this recipe are all specifically chosen to work together in preserving their lush tropically bright flavors. To ensure a hot sauce has a fully rounded out flavor and isn't just a one-note spicy sauce, we often add something from the onion family to a recipe. The onion used here is scallions. Scallions are brighter in flavor than a typical yellow onion. Herb also do a ton to lift the flavor and aroma of a hot sauce. The additional of a whole lot of cilantro adds a clean freshness to the recipe that helps it shine—even after a few weeks of fermentation.
So if you're looking for a bright, tropical, fruit-forward recipe for your next batch of homemade hot sauce, look no further. 
Want it spicier?
Replace jalapeños with a hotter pepper like Serrano chilies. Serrano will also help keep your hot sauce a verdant green.
Don't like cilantro?
We get it. Cilantro isn't for everybody. Try replacing it will another herb like parsley.
New to fermentation?
Check out our very own Fermented Hot Sauce Kit for everything you need to easily get started lacto-fermenting at home. Looking for more fermented hot sauce recipes? Check out our Fermented Pineapple Habanero Hot Sauce Recipe.